Concrete Blocks
The largest and most automated site within the group, Gryphonn Concrete Products produces Building Blocks, Wet-Cast and Pressed paving. Situated in Pontllanfraith South Wales the manufacturing site also contains the Group Head-office. The site is perfecty positioned for quick access to the M4 corridor or central Wales.
Gryphonn has developed a comprehensive range of various density building blocks which are suitable for most applications in the construction and civil engineering industry for both load-bearing and non-load-bearing situations.
Our Concrete Block range:-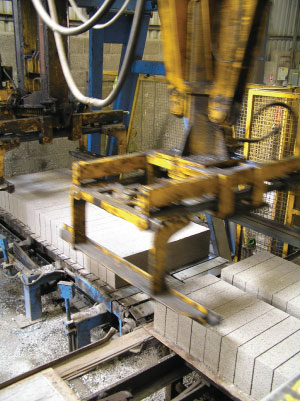 Production is achieved with highly automated systems that embrace modern techniques and technology thus enabling us to provide excellent quality at competitive prices.
Gryphonn Concrete Products manufactures it's entire product range under a quality assurance scheme complying with BS EN ISO : 9001:2000. All block products comply with the provisions of BS EN 771 - 3 : 2003.
Each density grade is also available in Paint-grade Quality and as a Briquette.