Gryphonn Quarries Limited
Gryphon Quarries has an established reputation as a quality Limestone material supplier. Situated in Trefil, Tredegar, the Gryphonn Quarry Complex produces a wide range of Limestone aggregates and fill materials.
Although initially established primarily to supply aggregates to the factories within the Gryphonn group, the quantity and range of the materials produced quickly exceeded our initial parameters and today Gryphonn Quarries now supplies hundreds of different customers from Civil Engineering Contractors and the Construction Industry through to DIY builders and Soil Improvers.
The Trefil Quarry Complex is a self contained site handling all relevant material processing, loading and dispatch. To ensure the quality and availability of a full range of products Gryphonn continues to invest in the latest Crushing and Mobile plant. Products produced range from Clean Dust and single size Aggregates to Large Blockstone and Sub-bases.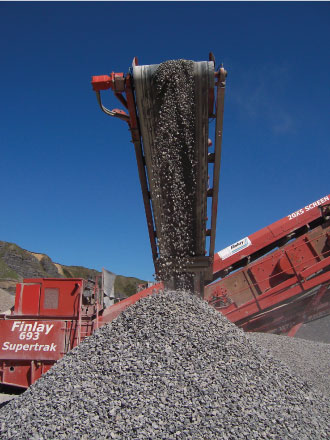 Gryphon works closely with the EA & Brecon Beacons National Park Authorities, operating a robust Environmental Policy to ensure all quarry operations conform to accepted practices.
The new £800m road modifications at the Heads of the Valleys now makes access to the quarry complex even easier, ensuring Gryphonn Quarries can continue to be the go to supplier of materials in the South & Mid Wales area.